Chanel ups the hydration levels even further with two new additions to its sensorial and eco-responsible N°1 line. By Sally Hunwick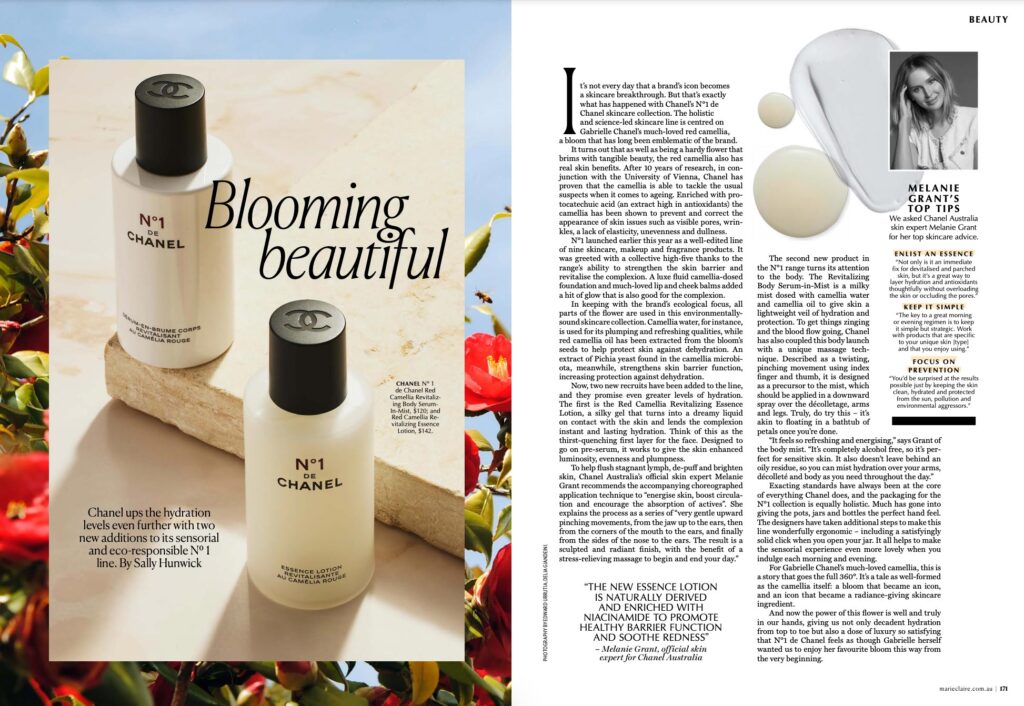 It's not every dav that a brand's icon becomes a skincare breakthrough. But that's exactly what has happened with Chanel's N°1 de Chanel skincare collection. The holistic and science-led skincare line is centred on Gabrielle Chanel's much-loved red camellia, a bloom that has long been emblematic of the brand.
It turns out that as well as being a hardy flower that brims with tangible beauty, the red camellia also has real skin benefits. After 10 years of research, in conjunction with the University of Vienna, Chanel has proven that the camellia is able to tackle the usual suspects when it comes to ageing. Enriched with pro-tocatechuic acid (an extract high in antioxidants) the camellia has been shown to prevent and correct the appearance of skin issues such as visible pores, wrinkles, a lack of elasticity, unevenness and dullness.
N°1 launched earlier this vear as a well-edited line of nine skincare, makeup and fragrance products. It was greeted with a collective high-five thanks to the range's ability to strengthen the skin barrier and revitalise the complexion. A luxe fluid camellia-dosed foundation and much-lovedlin and cheek balms added a hit of glow that is also good for the complexion.
In keeping with the brands ecological focus, all parts of the flower are used in this environmentally-sound skincare collection. Camellia water. forinstance. is used for its plumping and refreshing qualities, while red camellia oil has been extracted from the bloom's seeds to help protect skin against dehydration. An extract of Pichia yeast found in the camellia microbi-ota, meanwhile, strengthens skin barrier function, increasing protection against dehydration.
Now, two new recruits have been added to the line, and they promise even greater levels of hydration. The first is the Red Camellia Revitalizing Essence Lotion, a silky gel that turns into a dreamy liquid on contact with the skin and lends the complexior instant and lasting hydration. Think of this as the thirst-quenching first layer for the face. Designed to go on pre-serum. it works to give the skin enhanced luminosity. evenness and plumpness.
To help flush stagnant lymph, de-puff and brighten skin, Chanel Australia's official skin expert Melanie Grant recommends the accomnanying choreographed application technique to "energise skin, boost circulation and encourage the absortion of actives."
She explains the process as a series of "very gentle unward pinching movements. from the iaw un to the ears. then from the corners of the mouth to the ears. and finall from the sidoc of tho noco to the core Tho soonlt to o sculpted and radiant finish. with the benefit of a stress-relieving massage to begin and end vour daw
"THE NEW ESSENCE LOTION IS NATURALY DERIVED AND ENRICHED WITH NIACINAMIDE TO PROMOTE HEALTHY BARRIFR FUNCTION AND SOOTHE REDNESS"

– Melanie Grant. official skin expert for Chanel Australia
The second new product in the N°1 range turns its attentior to the body. The Revitalizing Body Serum-in-Mist is a milk mist dosed with camellia water and camellia on to ouve skin a lightweight veil of hydration anc protection. To get things zinging and the blood flow going, Chanel has also coupled this body launch with a unique massage tech-nique. Described as a twisting, pinchine movement using indey finger and thumb, it is designed as a precursor to the mist. which should he appled in a downward spray over the décollete arms and legs. Truly, do try this – it's akin to floating in a bathtub of petals once you're done.
"It feels so refreshing and energising," says Grant of the body mist. "It's completely alcohol free, so it's perfect for sensitive skin. It also doesn't leave behind an oily residue. so vou can mist hydration over vour arms décolleté and body as you need throughout the day."
Exacting standards have always been at the core of evervthing Chanel does, and the packaging for the N°I collection is equally holistic. Much has gone into giving the pots, jars and bottles the perfect hand feel. The designers have taken additional stens to make this line wonderfully erconomic – including a satisfyingly solid click when you open your jar. It all helps to make the sensorial eyperience even more lovely when vou indulge each morning and evening.
For Gabrielle Chanel's much-loved camellia, this is a story that goes the full 360 It's a tale as well formed as the camellia itselt: a bloom that become an icon and an icon that became a radiance-giving skincare ingredient.
And now the power of this flower is well and truly in our hands, giving us not only decadent hydration from ton to toe but also a dose of luyury so satisfving that N°1 de Chanel feels as thouch Gabrielle herself wanted us to eniow her favourite bloom this wow from the very beginning.